Wholesale Bromeliad Growers
Wholesale Bromeliad Growers like us, at Grant's Family Farm, are passionate about the entire world of Bromeliads! It is what keeps us going at it tirelessly day after day! Our aim is to supply you, our treasured wholesale buyers, with healthy, robust Bromeliads, for you to sell on.
As dedicated Wholesale Bromeliad Growers we encourage you to further your interest in some of the most exotic plants in the plant kingdom, Bromeliads. These easy to-care-for plants are yearned for all over the world. With more than 3,200 species recorded, these striking exotic plants display an array of shapes, colors and sizes, are are used as ornamental plants and items of decor, in homes and offices, hotels and public places.
Grower and Supplier of Beautiful Wholesale Bromeliad Growers
Wholesale Bromeliad Growers know how many challenges commercial Bromeliad cultivation presents! But, here at Grant's Farm Nursery, we face them with stamina and determination! We ship to wholesale buyers across the U.S.A. Bromeliads can easily adapt to a number of different climates. They can be grown outdoors in containers and taken inside before any freezing conditions threaten their health.
Landscapers Wholesale Bromeliad Growers
The older generations of the Grant Family have farmed successfully for many years. We, the present Grant Family, continue to do the same. In 1959, we opened one of the largest Retail Nurseries in South Florida, operating it until the late 1980's.
Our transition from Retail selling, to becoming Wholesale Bromeliad Growers proved very challenging, but we persisted, and here we are today! With the loyalty of our rapidly expanding client-base, our superb 22 acre Bromeliad farm has been successful. Grant's Farm Nursery ships Bromeliads wholesale, all over the U.S.A.
Here is a list of our Beautiful Tropical Bromeliad Plants available...
Aechmea
Alcantarea
Androlepis
Neoregelia
Nidilarium
Vriesea
Werauhia
Xvrieseacantarea
We, the Grant Family, welcome your interest in Wholesale Bromeliads. We are thrilled that you have found us, as your special supplier of Bromeliads! Call or email us for a full price list and inventory of our beautiful Bromeliads.
As a passionate traditional farming family, we actively maintain one of South Florida's largest and most successful Wholesale Bromeliad Growers Nurseries.
Wholesale Tropical Plants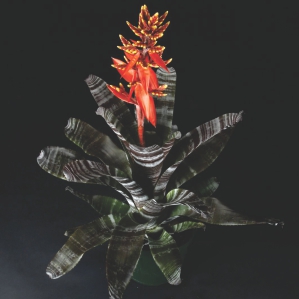 Grant's Farm Nursery is located in South Florida and ships Wholesale tropical Bromeliad plants throughout the USA.